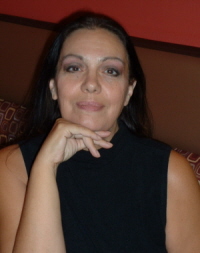 CHRISTINE D. WINTERS
Christine was born psychic, into a family of intuitives. She was drawing portraits of passed on relatives at the age of three.

She is a gifted and experienced artist and psychic, (she is well known throughout the country for her Soulmate Portraits, Guardian Angel and Past Life Portraits and also for Passion Play the Fortune Telling Card Deck Channeled by an Angel).

A noted radio and TV personality, Christine has fascinated the audience with her accuracy with time frames and names.

Christine starred as the Gypsy fortune teller in two MTV videos. She also starred in five musical fantasy plays in Seattle, and choreographed for some of the leading dance troupes in the Pacific Northwest, along with her own dance troupe for five years. Christine toured Japan one summer as the only dancer in the company of actors and musicians.

Among her many talents Christine also teaches "The Hidden Secrets to manifesting Your Heart's Desire", "Unknown Secrets of Dreams,' "The Magic of Feng Shui," "Unlocking the Mystery around Creating Your Future," "Awakening Your True God/dess Self," "The Hidden Knowledge of a Successful metaphysical career," and "The Secrets to Successful Seminars."

Christine actually walks her talk. In 1995 she was working for the City of Tacoma, with vested retirement, five weeks paid vacation and a $16.00 per hour job. One day spirit told her to quit her job. She said, "Are you nuts? What am I to do?" and Spirit simply said, "Today, tomorrow or next life." At that Christine knew she had to do just that, make the decision to quit her job, now, or wait until--when? That night she went home and wrote her resignation letter. When she took it in the next day to her supervisor, everyone in the office thought she was crazy. Well, she actually was. She was crazy to have stayed so long.

Christine holds several degrees and certificates in education, a Ph.D. in Philosophy of Religion, NLP Practitioner, Time Line Therapist, Certified Hypnotheripist, Ordained Minister and a Certified Reiki Master Healer Teacher. She also is a gourmet Raw Chef, as well as a Mediteranian, Medieval and Northern Italian Chef.

Christine does just about anything creative. She has even designed costumes for stage and television, as well as being a professional Belly Dancer and touring the Orient.

She is a High Priestess of Witchcraft and her familiar's name is Draggon Doggin.



Christine uses her talents to help her clients release negative emotions related to the past and limiting decisions causing challenges with the present, specializing in relationships and finances. Christine helps you anticipate the exciting adventure of your future.

"Her authentic concern for her clients, her honesty and humor along with her proven psychic abilities make her a delight to experience." High Priest

---
---
Many people have asked Christine exactly how does she start a piece of artwork from spirit? And what is the process.


The first thing I do is receive the information from spirit, it may come in a vision, in a dream, or I may simply see it on the paper in front of me.


The actual artistic process starts with a pencil drawing on tracing paper. I use a mechanical pencil, because I like a really tight small dark line, and I use tracing paper, because it stands up to continuous erasings (with a kneading eraser over and over again.)


Then I transfer the drawing onto a 24lb bristol, or drawing paper, usually in an ivory color.




Then once, I have the drawing the way I like it, I then start the coloring in process-I have used a colored pencil sketch for this demonstration, but it is essentially the same for every medium I use. I start laying in the under colors, such a dark green for shadows on the face and body, and hair. I then add layers of color to fill in the image. The last thing I do, is to add highlights and deep shadows, which I find to be the most important thing in making a picture look "real."

---